Due to the popularity of machine learning, laptop manufacturers have been making powerful machines that come with all the requirements people need for this. You can find the best laptop for machine learning that is within your budget.
For the newbies, machine learning is the process of automating the computer system for it to study and analyze data without human intervention. If you want to engage in this field, you need a powerful laptop with heavy processing power and a strong GPU. This guide can simplify your search since we have compiled a list of the most powerful laptops used for machine learning. The summary below should also be helpful. Enjoy!
Comparison table
| Name | RAM | Processor | Check on Amazon |
| --- | --- | --- | --- |
| Tensorbook | 64 GB | Intel Core i7 | |
| Eluktronics Pro X | 64 GB | Intel Core i7 | |
| Macbook Pro | 16 GB | Intel Core i9 | |
| Razer Blade 15 inch | 16 GB | Intel Core i7 | |
| Acer Predator Triton | 32 GB | Intel Core i7 | |
| HP Spectre X360 | 16 GB | Intel Core i7 | |
Reviewing the best laptop for machine learning
Tensorbook– Offers excellent wireless connectivity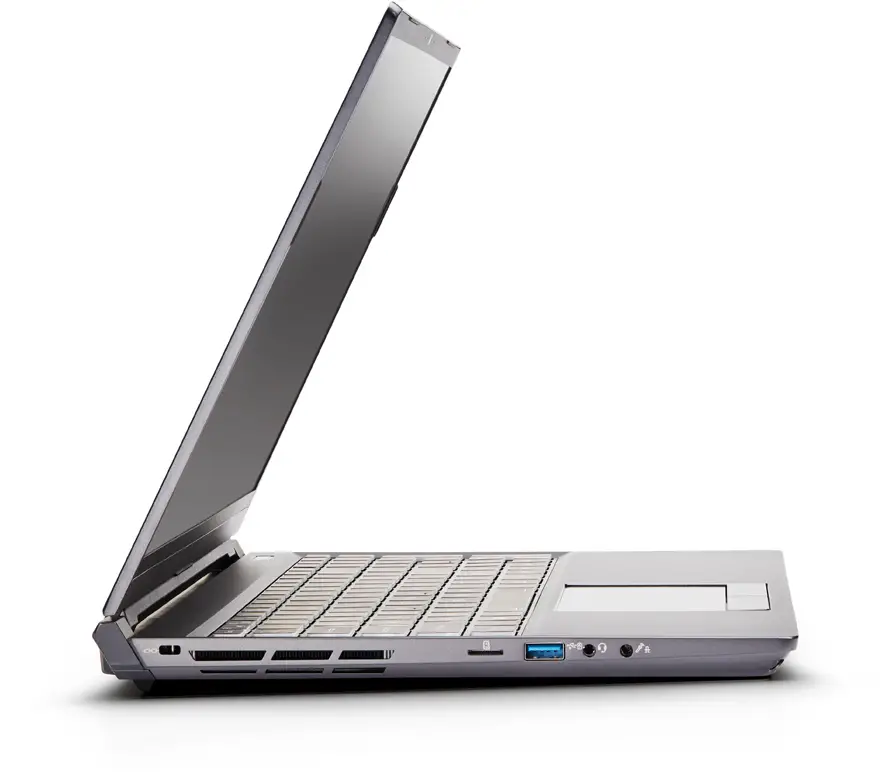 Are you a machine learning student looking for a high performing laptop? You should consider Tensorbook. Many people choose this laptop since it is equipped with a Core i7 chipset and has excellent clock speeds. The CPU can handle input processing as well as other computational tasks with ease. It also comes with dedicated VRAM and NVidia GeForce RTX 2080. This graphics card allows it to handle different parallel computational tasks. The manufacturer of this laptop also equips it with 3072 CUDA cores, which also enhance its performance.
Some users, however, feel that the battery is underwhelming.
Features
RAM: 64 GB
Processor: Core i7-10875H
Display: 15-inch OLED
Storage: 2TB SSD
This laptop is unique since it comes with different deep learning frameworks, including PyTorch, Keras, and TensorFlow. It is one of the highest-rated laptops for machine learning. Thanks to the inclusion of 64 GB RAM, this laptop allows you to stay away from any performance slowdowns. Unlike conventional models, Tensorbook comes with 2TB SSD storage, which enhances productivity during machine learning.
Apart from this laptop's impressive specs, you will also like the full HD display it comes with. The display can help you enjoy unique visual cues. It also comes with a cooling system and numerous ports for connectivity.
Pros
It comes with dual SSDs
Has a game-friendly screen
Powerful processor
Features a RAM of 64 GB
Cons
Verdict
Both professionals and students in machine learning like the high performance of this laptop. Its GPU and CPU are ideal for machine learning.
The best laptop for machine learning is one that is powerful enough to offer exemplary performance. This is what you should expect from choosing Eluktronics Pro X. We included this laptop for machine learning on our list due to its impressive hardware configuration. It comes with a Core i7-6700K processor and clocks speed of up 4.2 GHz. Since this laptop makes use of turbo boost technology, it offers enough power to handle heavy workloads.
Despite this, some people don't like its large size and bulky weight.
Features
Processor: Intel core i7
Graphics card: Nvidia GeForce GTX 970M
RAM: 64 GB
Display: 17-inch Full HD
The graphics card enables the processor to deliver a high amount of power needed for intensive computing. It also comes with GPU overclock software, which maximizes the graphics processing power. Many people choose this laptop because it has among the best GPUs for neural networks, predictive models, and deep learning.
Since it also comes with a RAM of 64 GB, it ensures that the datasets you work on remain in memory. As you work on different prototype models and data sets, you can easily view them under one console. You will also appreciate the inclusion of a full HD display that offers stunning viewing angles. During intense usage, you should expect this laptop's battery life to last for at least 5 hours.
Pros
It offers excellent processing power
Comes with 64 GB RAM
Cons
The battery life is a bit disappointing
Verdict
This laptop can handle heavy workload due to its powerful processor and quality graphics card. It is, therefore, worth investing in.
MacBook Pro– ideal for deep learning
Though no computer is perfect for machine learning, Macbook Pro can give you among the best experiences while working. The manufacturer of this model has made some improvements to it to eliminate some of the complaints that many users have been reporting regarding its predecessor. Once you choose this laptop, you will not deal with issues such as heating or a poorly designed keyboard. This Macbook Pro variant offers cloud support and an additional server. It can, therefore, manage different machine learning tasks with ease.
Some users, however, find the connectivity ports a bit limiting.
Features
Processor: Intel Core i9
RAM: 16 GB
Graphics: Radeon Pro 5500M
Retina display: 16 inch
Since the powerful processor of this laptop supports turbo boost, it makes it ideal for deep learning. The RAM and graphics card allow it to handle parallel computing seamlessly. When you are searching for the best laptop for machine learning, you should not overlook comfort. Apple tries to promote this by giving it a lightweight body design. Its 16-inch retina display also gives you comfortable viewing experience.
Pros
Excellent processing power
It is user friendly and reliable
Has an impressive battery life
Thermal management
Cons
The RAM cannot be upgraded
It is costly
Verdict
Most of the Macbook laptops often come with excellent trackpads, and this specific laptop is no exception. It features a Touch Bar and Force Touch trackpad to help you work more interactively. Most machine learning professionals also appreciate the presence of 1TB SSD storage in Macbook Pro laptop.
Though this laptop is meant for gaming, it gives you an excellent platform for machine learning. This is because it offers a powerful internal configuration that is hard to find on regular laptops. We included this model on our list since it fulfills most of the machine learning requirements. For instance, the Razer blade laptop comes with a powerful Core i7 processor. It is also equipped with the graphics card known as Nvidia GTX 1660 and has a 16 GB RAM.
Some people report that the keyboard is not the best.
Features
RAM: 16 GB
Graphics card: Nvidia GTX 1660
Processor: Core i7
It also offers an impressive storage capacity since it comes with both SSD storage of 256 GB and 1TB HDD. Most users also like the 15-inch display of this laptop, which comes with thin bezels. It is a mobile laptop that you can bring with you anywhere since it has a sleek and lightweight design. Since this laptop is made up of aluminum, you can use it for long.
Razer Blade is also considered a versatile laptop since it allows you to connect different peripheral devices. This is because it comes with ports such as the Thunderbolt port, mini display port, 3.1 USB ports, and an HDMI port.
Pros
It has a decent battery life
Powerful performance
It is mobile
The laptop is solidly built
Cons
Verdict
If you need a user-friendly laptop for machine learning, you should consider the Razer blade.
The powerful hardware of this laptop is the reason why many machine learning techies choose it. Acer Predator Triton can help you access the latest generation computing. This laptop comes with the Core i7 processor and Nvidia GeForce GTX 1080. Unlike models that tend to overheat, this one does not overheat due to the inclusion of 3D aeroblade. Apart from the laptop's GPU and CPU, it also offers RAM of 33 GB DDR4.
Unfortunately, you can only use it for 5 hours on a single charge.
Features
Copper heat pipes: 5
Processor: Core i7-7700HQ
Graphics card: Nvidia GeForce GTX 1080
RAM: 32 GB DDR4
The keyboard and trackpad of this laptop are also different from what other models come with. Its keys not only respond well to touch but also have excellent travel to give you a mechanical feel. Though it comes with a 15 inch HD display, you cannot connect an external display to this laptop when conducting numerous machine learning tasks.
Most laptop users enjoy listening to smooth music while working. If you can relate, you will appreciate the inclusion of the Dolby Atmos unit included in this laptop. This feature offers an excellent audio experience. Feel free to connect your headphones to this laptop and enjoy music as you conduct different machine learning tasks. The SSD storage of this computer is also known for offering fast write and read capabilities.
Pros
Has nice RAM
Comes in a compact design
Offers a clear and sharp display
Has a convenient mechanical keyboard
Cons
Some people find the touchpad to be weirdly placed
Verdict
The respectable specs of this laptop make it great for not only machine learning but also PC gaming. It, therefore, gives you a chance to entertain yourself during your free time.
Have you been using a laptop for machine learning, but keep on experiencing performance issues? You should consider replacing your current machine with HP Spectre. This is a powerful laptop that offers consistent performance. One of the reasons why it does not disappoint when conducting machine learning tasks is the use of Core i7 Processor. Since it offers high clock speeds, it can help with creating predictive models and arranging datasets.
Some users, however, report slight heating issues.
Features
RAM: 16 GB DDR4
Processor: Core i7
Graphics card: Nvidia GeForce MX150
OS: Windows 10 Home
Thanks to its RAM, the laptop can ensure that different machine learning processes can stay in memory and will not get refreshed. One of the elements that complement the RAM and CPU performance is the powerful graphics card included in it. HP Spectre uses Nvidia GeForce MX150, which enables you to work on large data sets and train complex algorithms without experiencing any lag issues. Apart from the impressive specs of this laptop, it also has cloud support, contributing to its high performance.
Pros
You can use it in the laptop or tablet mode
It uses a powerful processor and a quality graphics card
Comes with a stunning display
Stylish design
Cons
The battery life is disappointing
Verdict
Feel free to covert this computer into a tablet thanks to its 360-degree hinge rotation. The tablet mode can make note-taking fun.
These are the two laptops that we don't recommend
People who are trying out machine learning for the first time focus on this model since it is budget-friendly. It is also a lightweight laptop that you can carry the entire day without experiencing fatigue. Despite this, the computer has a lot of drawbacks that we cannot overlook. For instance, it comes with a poor IPS panel and does not contain some useful connectivity ports, such as a Type C USB port. The graphics card included here is not the best since it does not offer quality visuals.
Features
Graphics card: GeForce FTX 1050
Processor: Core i7
RAM: 16 GB
SSD storage: 512 GB
Pros
Cons
Comes with a poor warranty
Some people reveal that the screen keeps on freezing
It lacks USB type C port
Poor resolution
Verdict
Sometimes, getting the cheapest laptop can be frustrating even if it saves you some cash. You may not enjoy using this model since it has a lot of limitations.
This thin and lightweight laptop may have the necessary hardware for machine learning, but we don't recommend it for different reasons. It is a highly-priced laptop that comes with a screen that keeps on bouncing. Many customers do not expect such problems from a laptop with a high price tag. You may also experience screen bleed at particular corners of this laptop. Apart from that, it is also not reliable since the mouse keeps on hanging while working. The battery is not impressive since it drains very fast, especially when downloading drivers.
Features
Processor: Core i7-9750H
RAM: 16 GB
SSD storage: 512 GB
Weight: 4.4. Pounds
If you need a lightweight laptop that you can move around with, you should avoid this model since it can be quite bulky. Some of the keyboard buttons do not have a light, such as the caps lock button.
Pros
Cons
The laptop is not very reliable
Its battery drains fast during intensive use
You may experience issues with the keyboard
Some people report that the touchpad is not the best
Verdict
Though the hardware of this laptop is great, its software disappoints many customers. You can avoid such problems by bypassing this model and focusing on the ones we discussed earlier.
How to get the best laptop for machine learning
Artificial intelligence technologies like machine learning involve the use of large data amounts and complex algorithms. You, therefore, need a laptop with powerful hardware. As you look for the best laptop for such tasks, you should consider the following.
GPU
A deep learning machine should have excellent GPUs. These refer to the micro-processing chips that handle graphics. GPUs are quite popular in the machine learning field since they can manage simultaneous computations at a fast rate. While comparing different laptops for machine learning, you should choose one with a high memory bandwidth and many cores. The best laptops for machine learning use the Nvidia GPU.
RAM
Choose a laptop that has a large RAM since it can handle a lot of data. Such a laptop can also help you perform different machine learning tasks with ease. The minimum RAM requirement for machine learning is 8 GB.
CPU
This is also a crucial element to consider when comparing laptops for machine learning. Good laptops come with at least an Intel Core i7 processor. If you cannot find such a computer, you can still use one that features Intel i5 and uses Turbo boost technology.
Storage
You should also be keen on the storage that a laptop offers. Choose a model that comes with SSD storage since it is known to be faster and more efficient than those based on HDD storage. Getting a laptop that comes with both is, however, much better.
Conclusion
Machine learning is rapidly growing as time passes. If you would like to join this field, you need to invest in the best laptop for machine learning. All of the models that we have discussed above meet the minimum requirements for machine learning. Go through them so that you can identify the right one for you. Do not overlook the factors we have highlighted since they should influence your buying decision.